Biography of Louis Napoleon Bellware
---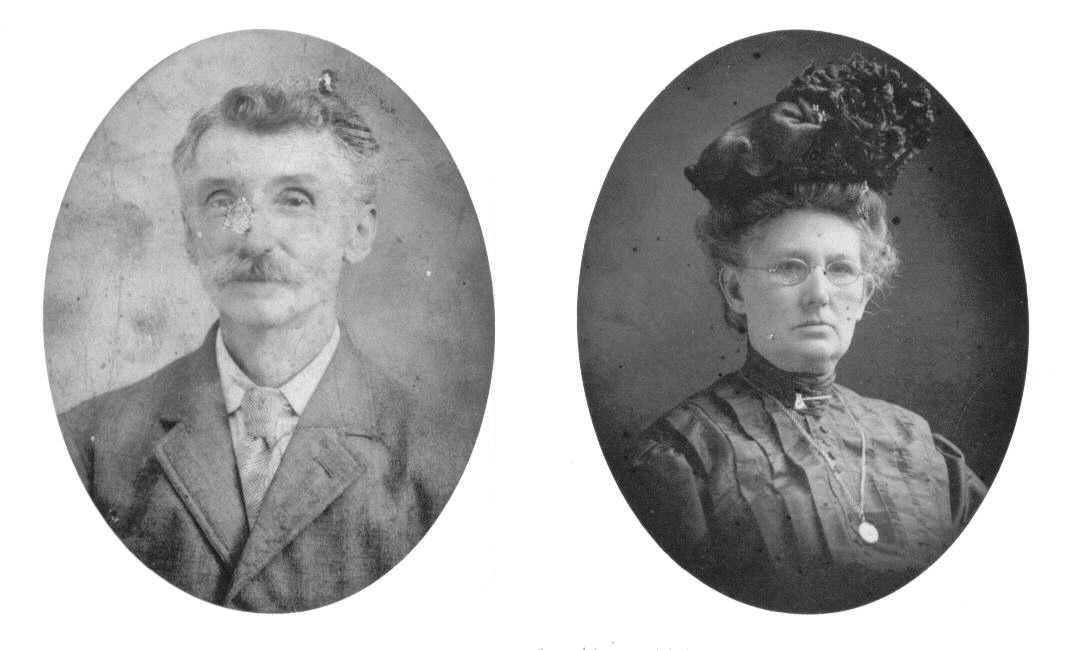 Above are photos of Louis Napoleon Bellware and his wife, Cynthia Ann Trimble.
Louis Napoleon Bellware was born in Trois Rivieres, Quebec, on October 27, 1849 with the name Louis Sebastien Belouin. His brother John Henry was also born in Trois Rivieres with the name Jean Francois Belouin. Their parents were Francois Belouin and Marguerite Duquet. Francois was a native of Trois Rivieres, being born there in 1824. He moved to Montreal where he married Marguerite in 1844. They had a daughter Philomene in Montreal in 1845 before relocating to Trois Rivieres. This Belouin family appears in the 1851 census of Trois Rivieres with Francois' brother, Alexander. The family seems to have moved frequently. Louis' sister Mary was born about 1855, possibly in Kingston, Ontario. The family may have lived there in 1857 when a Francis Belwar appears in the city directory of that year. The family shows up in the 1861 census in Peterborough, Ontario. John Henry claimed he lived on St. James Street in Montreal when he was recruited in the U.S. Army in 1864. Francois appears as Francis Bellware in the Montreal City Directory of 1866.
The Civil War
Louis left Canada at the age of fourteen and volunteered to fight in the American Civil War on the side of the Union. He was recruited on October 12, 1864 as a substitute for Norman Dunham in Company B of the 9th Regiment of the Vermont Volunteer Infantry and fought under the name Lewis Benway. He supposedly joined to find his older brother, John Henry, one of the first to use the name Bellware.

He was mustered-in on October 20, 1864 in Burlington, Vermont. By October 26, he was in New Haven, Connecticut. He was present with his unit in November and December 1864.

By January 1865 he was stationed south of Richmond, Virginia near Chapin's Farm. It is believed that this actually refers to Mary Chaffin's farm near the banks of the James River just east of Chaffin's Bluff.

On the night of January 23, 1865, while Louis was on pickets, or guard duty, he deserted. Although his military record states that he deserted to the enemy, there is no evidence that he did anything more than just walk away from his post. In fact, that is exactly what he told his family many years later.

Frenchburg
There is no record of what Louis did after he deserted until exactly six years later. On January 23, 1871 he married Cynthia Ann Trimble in Menifee County, Kentucky. Below is a photo of their street in Frenchburg. Their house cannot be seen but was on the left side of street, just beyond the last visible house. The corner of the courthouse is visible on the far right.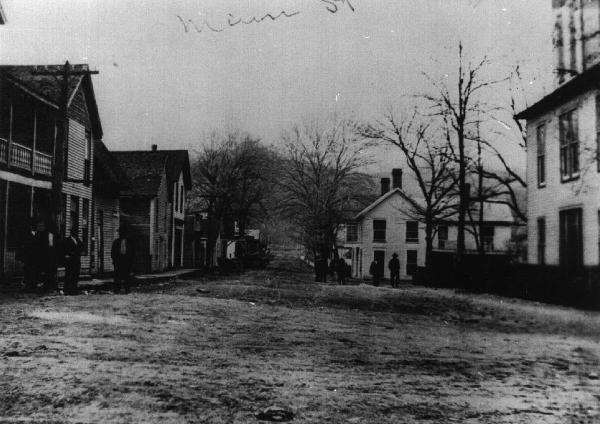 Cynthia was a member of the Trimble, Dennis, Day, and Yocum families. She had relatives in Kentucky going back to late 1770's. Her father, Lewis Trimble was elected Constable of Menifee County in September 1870, but he died within a month of the election. Her grandfather, Mark Trimble was born in 1782 in Virginia and was the grandson of David Trimble, one of the original five Trimble brothers who sailed to Baltimore around 1740 from Armagh, Ireland in a boat they built themselves.

Louis and Cynthia had two children, Mary Margaret (b. 1872) and John Shirley (b. 1876). Cynthia was a strong advocate of education and made sure that her children attended college. Both children attended National Normal University of Lebanon, Ohio around 1893.
Mary Margaret was a schoolteacher in Menifee County until she married Henry C. Greenwade in 1901. Henry was the son of James Greenwade, first sheriff of Menifee County. Mary and Henry had one child, Anna Louis in 1910 and lived in Mt. Sterling, Kentucky. Mary died there in 1926, as did Henry in 1941. Their daughter, Anna, moved to Dayton, Ohio and married F. Wayne Westenberg. She died in an auto accident in 1936 before having any children. That branch of the family tree died with her.

Middletown and Miamisburg
Louis applied for a pension based on his Civil War service, but it was denied due to his desertion charge. He and Cynthia moved to Middletown, Ohio in the early 1900's. They then moved to Miamisburg, Ohio and lived with their son, John, until they died. Below is a photo of John and Louis (according to a note on the back, they are at the center left and center right, respectively. But, the man on the far left looks a lot more like Louis) in Middletown around 1910.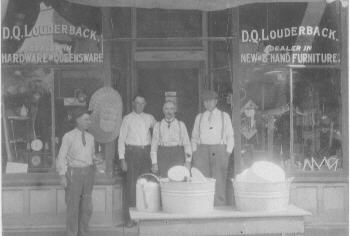 Cynthia went blind around 1920 but was still able to take on some daily tasks. She died in July 1932. Louis died a year later in May 1933 and his buried at Cynthia's feet in Hill Grove Cemetery in Miamisburg.
Acknowledgements
The information presented here was compiled with the help of numerous people including Mary Chudleigh, Eunice Bellware, both now deceased, Peter Bellware and his wife, Carol. Barbara W. Ingram, an expert in Menifee County history and genealogy, was also instrumental in gathering this data and provided the photo of Frenchburg.

This page is maintained by Daniel A. Bellware, great great grandson of Louis Napoleon Bellware.

This page was last updated on June 27, 2009.
© Copyright 2009