Biography of John Henry Bellware
---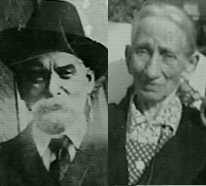 Above is a photo of John Henry Bellware and his second wife, Annie Murphy.
John Henry Bellware was born in Trois Rivieres, Quebec on September 25, 1847. Although he gave various places and dates for his birth while applying for Civil War pension, a baptismal record from Trois Rivieres seems to provide the actual place of his birth. That record also shows that he was baptized Jean Francois Belouin. His parents were Francois Xavier Belouin and Marguerite Duquet. Francois was a native of Trois Rivieres, being born there in 1824. He moved to Montreal where he married Marguerite in 1844. They had a daughter Philomene in Montreal in 1845 before relocating to Trois Rivieres. A brother, Louis was born in Trois Rivieres in 1849. This Belouin family appears in the 1851 census of Trois Rivieres with Francois' brother, Alexander. The family seems to have moved frequently. John's sister Mary was born about 1855 and maybe in Kingston, Ontario where a Francis Belwar appears in the city directory of 1857. The family shows up in the 1861 census in Peterborough, Ontario. John Henry claimed he lived on St. James Street in Montreal when he was recruited in the U.S. Army in 1864. Francois appears as Francis Bellware in the Montreal City Directory of 1866.
John volunteered to fight for the Union side of the American Civil War while he was working as a rope maker in Montreal, Quebec. He was recruited on July 16, 1864 as a substitute for Orson Wright in Company A of the 17th Regiment of the Vermont Volunteer Infantry.

He was mustered-in on July 16th in Burlington, Vermont. By July 21, he was in New Haven Connecticut. He apparently spent most of his time in Virginia. He was stationed at Petersburg, Virginia in the summer of 1864 and was mustered-out near Alexandria, Virginia the next year on July 16, 1865. There is some mystery as to what happened to John and his brother Louis immediately after the Civil War. No record has been found that gives the location of the brothers between the end of their service to the Union Army in 1865 and their marriages in 1871. According to some family legends, he may have spent some time in Kentucky, where Louis settled.

Eventually, John returned to Montreal where he married Mary Ann Nichols on October 18, 1871. They had two children before Mary died in September 1874. The youngest child, John Thomas, died in September 1874, before he was a year old. The oldest child, Mary Ellen, died at the age of 9, in June 1881. Below is a copy of the funeral notice that appeared in the Montreal Star.


John remarried on November 19, 1877, this time to Annie Murphy. They had ten children together; Mary (b.1878), Julia (b. 1880), Annie (b. 1883), Agnes (b. 1886), John (b. 1888), Emily (b. 1890), Louis (b. 1892), Francis (b. 1895) Thelma (b. 1899) and Frederick (b. 1902).

After the war, John worked as a chauffeur, laborer and fireman and lived out his life at various addresses in Montreal, including 87 Grand Trunk Street, 105 Forfar Street and St. James Street. He was active in St. Ann's Total Abstinence and Benefit Society, a temperance organization, where he was on the executive committee in 1880 and the Assistant Marshal in 1881.

John applied for and received a pension from the U.S. War Department in the early 1900's. The original application was dated 1901. His widow, Annie also applied for a widow's pension in 1923. This pension played an important role in the family for the rest of Annie's life. This was especially true during the depression. The small sum was enough to keep her extended family fed through those very difficult years.

John died on August 16, 1923 and is buried in Cimetiere Notre-Dame-Des-Nieges in Montreal in a family plot that includes his wife, Annie, his children and other members of his extended family including sisters Philomene and Mary. Annie died in June 1947.
| | | |
| --- | --- | --- |
| | Ancestry of John H. Bellware | |
| Husband | Marriage Date & Place | Wife |
| Emery Blouin | 1669 Chateau-Richer, Quebec | Marie Carreau |
| Gabriel Blouin | 1713 St. Jean IDO Quebec | Catherine Jahan |
| Jean Baptiste Blouin | 1754 St. Jean IDO Quebec | Marie Anne Delage |
| Jean Joseph Blouin | 1784 St. Vallier, Quebec | Marie Madeleine Remillard |
| Jean Francois Blouin | 1818 Trois Rivieres, Quebec | Sophie Giroux |
| Francois Xavier Belouin | 1844 Montreal, Quebec | Marguerite Duquet |
| John Henry Bellware | 1877 Montreal, Quebec | Annie Murphy |
This page was last updated on June 27, 2009.
Thanks to Pete, Carol and Fred Bellware for all the help in compiling this information on John Henry.
This page is maintained by Daniel A. Bellware
Copyright 2009