Bellware Family Reunion 2000 (B2K)
Montebello, Quebec, Canada
July 1 - 4, 2000

Taken in the lobby of Chateau Montebello, in front of the magnificent six-sided fireplace.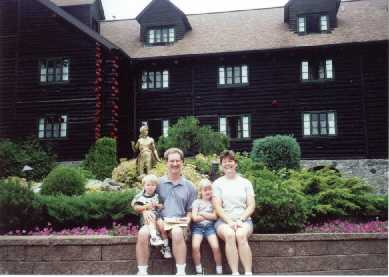 Daniel, Dan, Katherine and Leslie Bellware outside Chateau Montebello
For the first time the Bellware Family Reunion was held in our ancestral homeland of Canada at Chateau Montebello Resort. Built in 1930, this magnificent hotel is the world's largest log structure. This reunion included the largest contingent of Canadian family members at any reunion, so far. Some of the first timers included Stella Bellware, her children Linda with daughter Catherine and Jo-Ann Bellware with daughters Emma and Marie. Bob and Gail Vokey were there as was his sister Gail Oliver and her husband Bud. Glenda McIntyre and husband Bryan were there with her mother Shirley.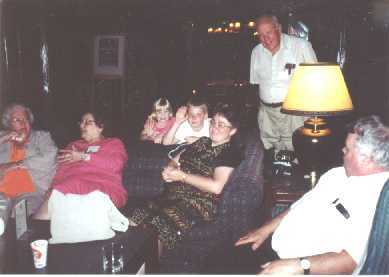 Carolyn, Marge and Katherine Bellware, Louis and Diane Weyrauch, Dave Bellware and Bryan McIntyre
Many "old-timers" were in attendance including Dan Bellware of New Jersey and his brother Dave of Ohio and sister Mary Chudleigh of Texas. Unfortunately, Eunice Bellware of Delaware was unable to attend at the last minute. Ron Bellware of Florida made it to his first reunion in 32 years. He brought his wife Margie and kids Justin and Britney. Claude Bellware got his wife Helene to attend this time, but we missed his father Roger.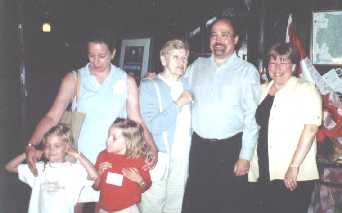 Mary, Emma, Jo-Ann, Stella, Claude and Helene Bellware
There was a golf tournament on Sunday with Fred, Pete and Barry Bellware teeing off first, followed by Bob and Gail Vokey and Bud Oliver. Shirley, Jack, Allen and Richard Weyrauch teed off last. Something must have happened to the scorecards as awards were selected at random and given to Jack, Shirley, Richard and Barry.
There were lots of other things to do including swimming, horseback riding, boating and bicycling. Reminiscing and conversation broke out all over the resort from the lobby to the terrace to the hot tubs. Pete, Carol and Gloria were spotted in the hot tubs. Marge, Jack and Leslie all took in a massage. Jack needed to work out the kinks received from a nasty fall on some of the steps. He may have been trying to out do his sister Joanne who tumbled down some steps by the pool earlier that day. Carolyn Bellware and Diane Weyrauch took advantage of some free time to have manicures.
Greg Bellware and his daughter Julie, along with Andrew Bellware and his sister Jean Lewis went for a spin, or shall we say spill, on the jet skis.
Carolyn Bellware along with her daughter Diane Weyrauch and her two sons, Daniel and Louis went on a pontoon boat ride. Jeffery Hale and Katherine Bellware tagged along as well. They had a really nice trip and it was very informative according to Diane.
While Leslie and daughter Katherine were riding bikes, little Daniel Louis and his dad relaxed with a much-needed nap. Most of the kids were seen in the pool at some point. The fourteen-year-old boys (Jeffery Hale, Daniel Weyrauch and Justin Bellware) were also spotted sipping ice water at the bar. Apparently Sylvie the barmaid had attracted their attention.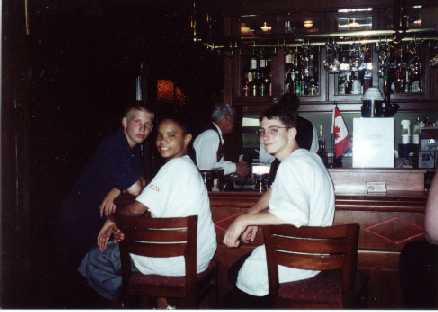 Jeff Hale, Justin Bellware and Daniel Weyrauch

The food was first class, if a bit slow in coming at times. This only increased the amount of visiting across the dining room at meal times. Every time you put a fork in your mouth somebody was snapping a photo of you. By the way, did everybody's pictures come out as dark as mine?

The weather was great most of the time. The rain only chased us indoors a couple of times. The Canadians were thankful it was so warm and the Americans (mostly the Southerners) were thankful it was so cool.

The meeting on the last night gave everyone a chance to review a huge print out of the family tree as well as photos and a video from previous reunions. A presentation on the origins of the family was given and an uncanny resemblance was noted between some of the Bellwares present and the sketch of the notorious Hazen. Jean Lewis handed out Maple Beanie Babies to all the attendees. Pete and Carol were given a gift for their efforts in making the reunion a success. The year and location of the next reunion was also voted on. We'll see you all when we return to our "Old Kentucky Home" in 2003.

This page is maintained by

Daniel A. Bellware and was last updated May 31, 2010