Biography of William Clay Bellware
---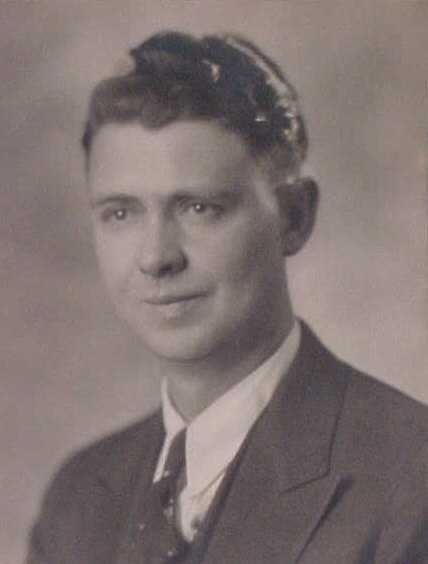 William Clay Bellware was born on St. Patrick's Day, March 17, 1900 in Menifee County, Kentucky. He was the first child of John Shirley Bellware and Lillie Allen.

He moved with his parents to Middletown, Ohio around 1903 and graduated high school in Franklin, Warren Co., Ohio in 1918. His World War I draft registration shows that he had intended on going to Asberry College in Wilmore, Kentucky. For whatever reason, they have no record of him ever attending.

He went to work in the automobile industry as early as 1920, while living in Dayton, Ohio. He told the census taker that year that he was a clerk an automobile factory.

In 1923, he married Verna Smorch, a native of Alpena, Michigan. They married in Chicago, Illinois, but they probably met in Michigan. Verna had attended high school in Flint, Michigan and William had probably relocated to Michigan regarding his work.

William and Verna had their first child, William Donald in January, 1924. They had a daughter, Betty Loraine in July, 1926 but she died five months later. They had two more children over the next five years. All of the children were born in Detroit, Michigan, where William and Verna made their home.

William was working as a steel buyer for the Lincoln Motor Car Company on July 15, 1939 when tragedy struck the family again. William had purchased land and built a vacation home at Higgins Lake, Michigan. He was working to repair the well with his brother Conn's, father in law, Clem Lamb when the sides of the hole they had dug caved in.

William was buried under twenty feet of sandy soil. Clem summoned the State Police for help and together, they raised an army of one hundred volunteers who attempted to rescue William. Unfortunately, the sandy soil kept giving way as they dug and it took several hours to finally reach him. At 1 am the next morning, they recovered his body. Below is the article that appeared in his local newspaper after the accident.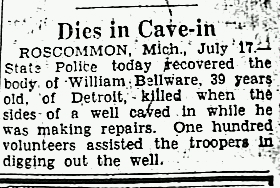 William was laid to rest at Grandlawn Cemetery in Detroit next to his daughter, Betty on July 18, 1939.

Verna never remarried, but went to work to support her family. After many years, she retired from Chrysler Corp. and traveled extensively. She moved to Florida around 1977 and died there in September, 1988. She was then interred at Grand Lawn next to her husband and daughter.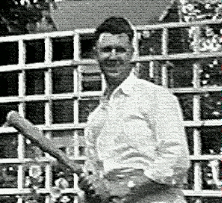 The photo above of William Clay Bellware was taken from a 16mm home movie shot in Detroit, Michigan in 1938.
| | | |
| --- | --- | --- |
| | Ancestry of William C. Bellware | |
| Husband | Marriage Date & Place | Wife |
| Emery Blouin | 1669 Chateau-Richer, Quebec | Marie Carreau |
| Gabriel Blouin | 1713 St. Jean IDO Quebec | Catherine Jahan |
| Jean Baptiste Blouin | 1754 St. Jean IDO Quebec | Marie Anne Delage |
| Jean Joseph Blouin | 1784 St. Vallier, Quebec | Marie Madeleine Remillard |
| Jean Francois Blouin | 1818 Trois Rivieres, Quebec | Sophie Giroux |
| Francois Xavier Belouin | 1844 Montreal, Quebec | Marguerite Duquette |
| Louis Bellware | 1871 Frenchburg, Kentucky | Cynthia Trimble |
| John Shirley Bellware | 1899 Frenchburg, Kentucky | Lillie Allen |
| William Clay Bellware | 1923 Chicago, Illinois | Verna Smorch |
This page is maintained by Daniel A. Bellware, grandson of William Clay Bellware.

This page was last updated on January 4, 2006
© Copyright 2006
Let me know what you think about my page. Send mail by clicking here.