The Smorch & Buczkowski Families
---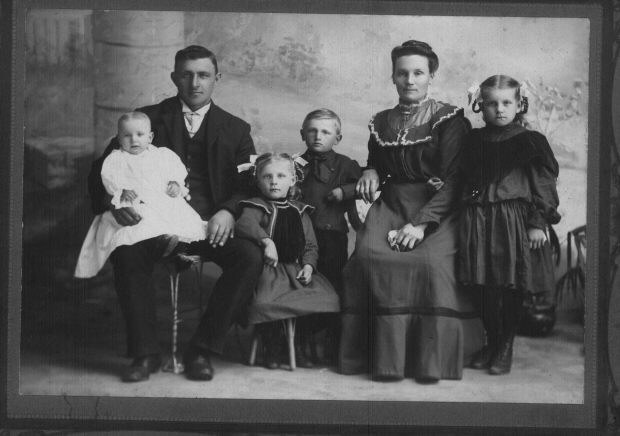 John Smorch and Frances Buczkowski with (l-r)Verna, Martha Frank & Cecilia , c. 1906.
The Buczkowski Family
Mathias Buczkowski was born on January 1, 1842 in a part of Poland that was in Prussia at the time. His wife Mary was born in July, 1845, in Prussia, as well. They were married in Europe before they came to the United States aboard the ship, "Gutenberg".
They left from Bremen, Germany and arrived in Baltimore, Maryland by July 26, 1872, where the ship was quarantined for a day. They brought four children with them from Europe; Michelina (b. 1865), Frank (b.1866), Annie (b. 1867), and Magdalena (b. 1872). The youngest child, Magdalena, was only three months old when they made their transatlantic crossing.
Baltimore, Maryland
The Buczkowski family lived in Baltimore for about five years after they arrived. One child, Joseph was born there in 1876.
Mathias worked as a laborer during those years before they moved to Michigan in 1878.
Mary's parent's, Peter Zielinski and Agnes Kszewski also came to Baltimore about the same time and brought Mary's little brother, Joseph. He used the name Green., which he derived from the family name. The root of Zielinski, ziel, is Polish for green. Zielinski's also came to Michigan where Agnes died in Alpena in 1919 at age 96 .
Krakow Township, Michigan
The Buczkowski family moved to Krakow Township in Presque Isle Co., Michigan around 1877, where Mathias took up farming. The first of their children born in Krakow was Frances, in 1878. Followed by John, Helena, Antonia and Anthony. Mathias was listed as one of the first parishioners of St. Casimer's Catholic Church in 1879.
They later moved to Alpena where Mathias died at the age of 66, in 1908. Mary followed him in 1925 at the age of 80.
The Smorch Family
Originally, the name was spelled Smarszcz, but it has appeared in numerous forms including; Smarsz, Smarcz, Smars, Smarsh, Smarch, Smosh, Smoric, Smorch and Smolch. Many variations are used to this day by the descendants of the original couple, Andrew and Josepha, that came to the United States around 1871.
Andrew Smarszcz was born in October, 1850 in the Province of Posen in Poland which was part of Germany at the time. His parents were Andrew and Catherine Smarszcz. His wife, Josepha Brodzinska, was born in Budziszewo, Skoki Parish, Poland in March, 1852, she was the daughter of Michael Brodzinski and Juliana Walkowska. Andrew and Josepha were probably married shortly before they left Europe.
Berea, Ohio
The Smarszcz family settled in Berea, Ohio, where they had the first four of their fourteen children. Katarzyna(b. 1872), Martha (b.1873) John, the first son, was born in Berea on June 20, 1875 and was baptized at St. Adalbert's church. Stanislaus was the last to be born in Ohio, in 1876. The Smarszcz's left Ohio for Michigan shortly thereafter.
Posen, Michigan
The family moved to Posen, Michigan around 1877, where the remaining ten children were born. They were; Beatrice (b. 1878), Stephen (b. 1880), Francis (b. 1882), Andrew, Jr. (b. 1885), Rose (b.1886), Vincent (b. 1889), Joseph (b. 1890), George (b. 1892) Mary Anna (b. 1895) and Michael (b. 1898).
Andrew Smarszcz , Sr. is listed as one of the first parishioners of St. Casimer's Catholic Church in 1879. He owned a threshing machine and saw mill in Posen. Andrew became a naturalized citizen in Rogers City, Presque Isle County, when the Circuit Court was in session in October, 1883.
Around 1906, Andrew and Josepha moved to Detroit so he could receive medical treatment. They later moved to Bay City where Andrew died in 1917. Josepha moved back to Posen by 1920, to live with her daughter, Rose. She finally moved to Flat Rock, Michigan, where she died in 1932.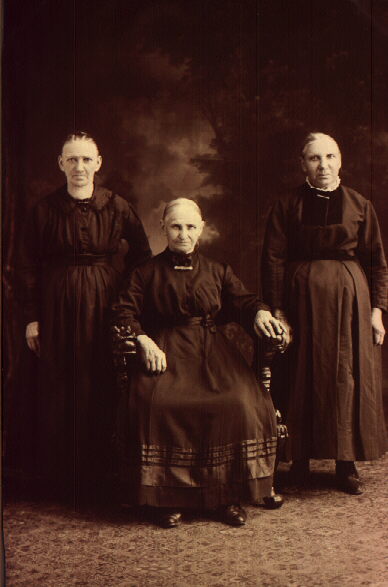 Josepha Brodzinska Smarszcz (center) with two sisters.
Alpena, Michigan
John Smorch and Frances Buczkowski received their marriage license in Posen, Presque Isle Co., Michigan in May of 1897. They were married in St. Mary's Catholic Church in Alpena on May 31. After the wedding, they stayed in Alpena to raise their family. They had seven children; Cecilia (b. 1898), Martha (b. 1900), Frank (b. 1901), Mary (b. 1903), who lived less that one month, Verna (b. 1905), Theresa (b. 1908) and Clara (b. 1910). Lumber was the main industry in Alpena and John worked in the saw mills there.
In 1911, Frances contracted typhoid and died. John remarried shortly thereafter to Josephine Moinette. They had no children together.
The family left Alpena and moved to the Flint area around 1915. Between then and 1923, John worked as a laborer, watchman, mechanic, carpenter and millwright. He then moved back to Alpena.
It was most likely in Alpena, in 1935, that John was hit by a car, suffering a fractured skull. He never fully recovered from the injury and died in a nursing home in Traverse City in 1942. He and his first wife, Frances, are buried together in Holy Cross Cemetery in Alpena.
Metz, Michigan
Some of John Smorch's siblings settled in Metz, Michigan, in Presque Isle County, near Alpena. The most notable occurrence there was the great fire of 1908. The whole of Northern Michigan was burning that October. John's brother Andrew Smarszcz, Jr. and wife Anna barely escaped with their lives after fleeing the flames of a runaway brush fire. Metz was destroyed and many people lost there lives. One locomotive was loaded with refugees and headed out of town only jump the track in the middle of a blazing forest. At least twenty seven people died in the wreck.
Verna Smorch Bellware
Verna Smorch, daughter of John Smorch and Frances Buczkowski, married William Clay Bellware in Chicago in 1923. They lived in Detroit and had four children. William was a steel buyer for Lincoln Motor Car Co. until his death in July, 1939.
He was buried alive in an accident at his vacation home at Higgins Lake, Michigan. He was fixing his well in a hole twenty feet deep when the sandy soil collapsed. One hundred volunteers were summoned from the neighboring cabins and the State Police to help dig him out. It took several hours to reach him and by then it was too late.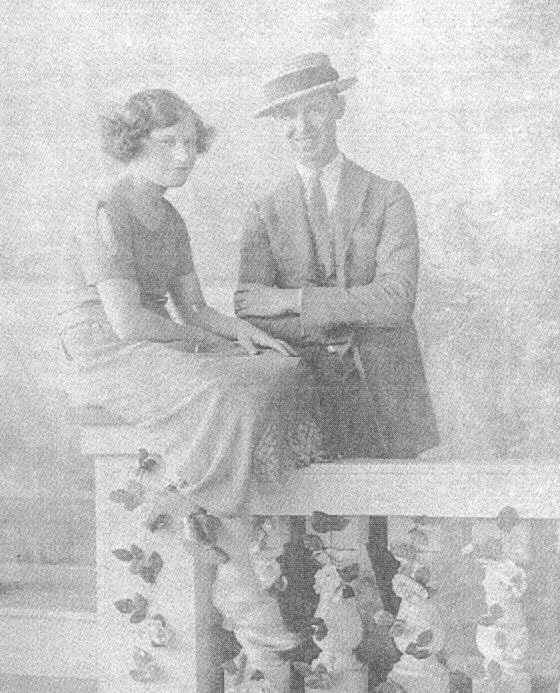 Verna and William Bellware ca. 1923.
Verna went to work to support her family. She was a member of the UAW for a number of years and retired from Chrysler Corp. in 1968 where she had worked in the tool crib at one of their automobile plants. After her retirement she became politically active in her local ward. She also traveled extensively during her retirement going to Europe, Asia and Hawaii.
She settled in Cocoa Beach, Florida in 1978 and died in Tampa in September, 1988. She was buried at Grandlawn Cemetery in Detroit, Michigan, next to her husband and daughter.
Frank Smorch
Frank Smorch married Leona Pepin around 1920. They lived in Flint, Michigan and had six children; Theodore (b. 1921), Edward(b. 1922), Frances(b. 1926), Frank (b. 1929), Patricia(b. 1931) and Leonard (b. 1933). After Leona died, in September, 1940, Frank married Hazel McMahon.
He worked in the auto industry for Buick for many years. He was an avid baseball player and umpire in a number of amateur leagues. He was remembered fondly by the sports community in Flint. Frank died there in May, 1974, Hazel followed in July, 1979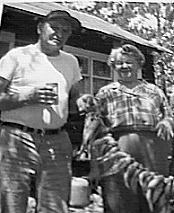 Frank and Hazel Smorch
This page is maintained by Daniel A. Bellware
And was last updated July 31, 1999
© Copyright 1999