The Lindemann & Beissel Families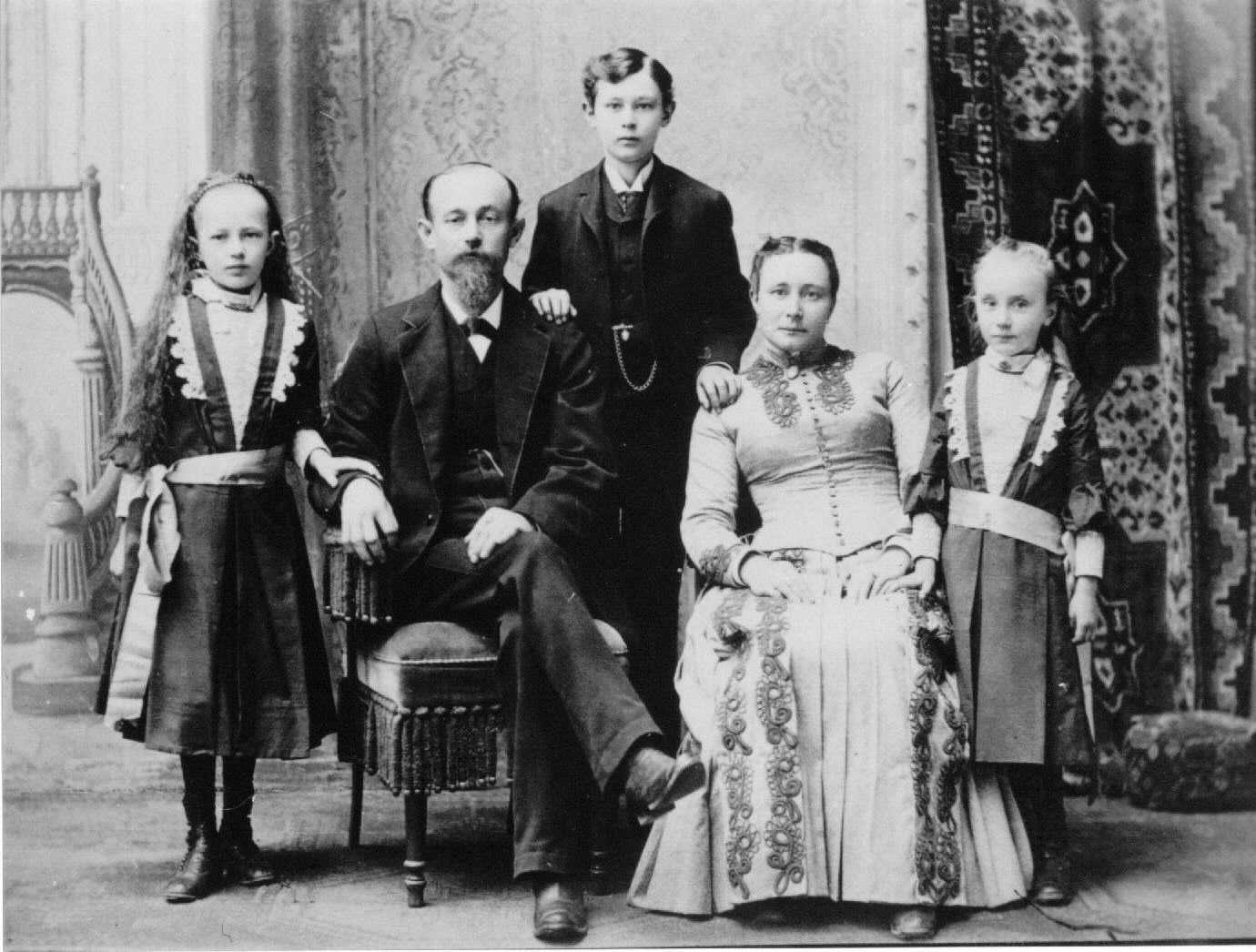 The Lindemann's (l. to r.) Celia, Charles, Theodore, Susan and Mary, ca. 1888.
Lindemann Family

Charles Lindemann was born in Günterode, a village near Heiligenstadt in the State of Thuringia, Germany in July 1847. The Lindemann family has deep ancestral roots in Thuringia. The earliest known ancestor in the village of Teistungen was Charles' great-great grandfather, Johann Georg Lindemann (c.1700 - 1767). His great grandfather, Johann Wilhelm was born in 1735 and lived until 1808 in the same village. His grandfather Johann Heinrich lived there as well from his birth in 1777 to his death in 1847. Charles' father, Jacob was a schoolteacher who moved to neighboring Günterode from his hometown of Teistungen.

St. Georgs Church built in 1713, where Charles was baptized in Günterode

Jacob's first wife, Dorothea Helwig was Charles' mother. They had at least three other children, Franz Jacob, Heinrich and Theodor. Dorothea died in 1867 and Jacob married Josepha Rust in 1869. They had least two children of their own.

Charles came to America in 1871. He arrived at Castle Garden in New York City on October 18 aboard the Westphalia and settled in Detroit, Michigan, shortly thereafter. He kept in touch with his relatives in Germany and expressed an interest in returning to his homeland in his old age. He also sent money to his relatives during the period of hyperinflation after World War I.

His brother Theodor moved to Heiligenstadt and exchanged letters with his brother Charles and nephew Theodore into the 1920's.

Charles' brother Theodor Lindemann - 1923
Beissel Family

Susan Beissel's great grandfather Paul Beissel was born about 1735. He married Magdalena Schlosser in February 1759. Their son Johann was born in Kleinmacher, Luxembourg in 1775.

Johann married Anna Marie Senninger on September 12, 1798 in Kleinmacher. They had many children, including Heinrich on November 1, 1807.

Heinrich was a vintner in Kleinmacher. He married Marie Weissen on January 29, 1834. She was the daughter of Peter Weissen and Marie Hoffman and was born in 1808 in Wecker, Luxembourg .

Charles and Susan abt 1872, shortly after she arrived and around the time they married

Susan was the tenth child of Heinrich and Marie and was born Klienmacher in 1853. Her mother died in 1861 and her father followed in 1866. The family split up and Susan followed her older brother John to America in 1872.
John (Beissel) Bissell & family (c.1871) The back of photo says(in German):

My address John Beissel

Detroit Michigan

No. 11 Porter Street

North America

John (Beissel) Bissell

Susan's eldest brother John (b. 1835) sailed to America in 1855. He settled in Detroit, Michigan before 1863 and began using the name Bissell. He worked for the Michigan Central Railroad for many years. He married Katherine Bower and had at least four boys, Charles(1867), Henry(1868), John(1874) and William/Edward (1880).

Katherine was born in Germany and came to America with her parents Jacob and Katherine in 1846. They settled in Bridgewater Township, Washtenaw Co., Michigan.

John kept in contact with his family back in Luxembourg and probably encouraged Susan to join him in Detroit.

Susan's grandson Clarence knew this family as as he always claimed Susan's maiden name was Bissell.

Susan's Other Siblings

Several of Susan's siblings left Luxembourg for France. Peter born in 1842, became a Christian brother under the name Fère Arèse, and settled in Reims. Catherine (b. 1852) went to France and became a nun. Magdalena (b. 1839) was married in Metz, France.

The Schmits

Susan's sister Anna Marie (b. 1848) married Peter Schmit and settled in Clausen near Luxembourg City. The Schmit's children were Catharine (Ketty), Mathias, Michel and Jean Pierre.

Jean Pierre was born in 1886, and married Elisabeth Moll in 1906. They had two daughters, Alice and Yvonne. Jean Pierre died in Clausen in October 1963.

Peter (Fère Arèse) Beissel

Anna Marie Beissel and Peter Schmit

Yvonne, Elisabeth and Alice Schmit in Clausen, Luxembourg, 1955

50th Wedding Anniversary of Jean Pierre and Elisabeth (nèe Moll) Schmit - August 16, 1956

Michel (b. 1882) came to America in 1909 and settled in Chicago, Illinois. He visited Europe briefly in 1931 as an American citizen and returned to Chicago where he died in 1953 without ever marrying.

Ketty was born in 1877 and lived her entire life in Luxembourg. She died in February 1953 without ever marrying.

Mathias was born about 1884 and worked in banking in Luxembourg. Like Ketty and Michel, he never married.

Susan and her descendents wrote to Anna Marie and the Schmits for several generations. Contact was lost but re-established at least a couple of times. Family news and photographs have been exchanged across the Atlantic for over 135 years.

Ketty & Yvonne Schmit (1936)

Michel & Mathias Schmit

Reunion

The families were finally reunited when the granddaughter of Anna Marie Beissel and great-great-grandson of Susan Beissel met in Luxembourg in November 2009.

Other Beissels in Michigan

Heinrich's first cousin, Hubert Beissel, the son of Johann Beissel's brother Nicholas was born in Kleinmacher in 1800. Hubert married Barbe Sandt in 1827 and they had seven children, three of whom died in childhood. Barbe died in 1852 and Hubert sailed to America with at least two of his children, John (b. 1833) and John Bartholomew (b. 1835) in 1855, same year as John (Beissel) Bissell.

They settled in Chelsea, Washtenaw Co., Michigan, near Ann Arbor by 1860. John Bartholomew was a cooper and had a shop in Chelsea. He married Sarah Staffan and had children Francis (1864), Verena (1870), Anna (1875) and twins, Leonard and Hubert(1882) His hometown of Klienmacher is wine country and he probably learned barrel-making there. His brother John worked on the railroad and married Emilie Exinger. They had children John (1869) and Edward (1872). Members of this family can still be found that area.

Susan's brother John and her cousins probably knew of each other's immigration. Otherwise, it would be an extraordinary coincidence that they would both travel thousands of miles from Klienmacher in the same year and end up within a few miles of each other in Michigan. Most Luxembourgers settled farther west in Chicago, Wisconsin, Minnesota and Iowa.
Charles & Susan

In 1872, Charles Lindemann was living at 60 Wayne Street between Jefferson and Larned. It was a boarding house owned by Susan's brother John Bissell. Wayne was renamed Washington and the block is now occupied by the Pontchartrain Hotel that was built on the former site of the original French fort.

Charles married Susan at St. Mary's church on April 29, 1873. It is very likely that they met at John Bissell's house.

They had three children; Theodore (1875), Celia (1877) and Marie (1882). Susan kept house while Charles worked as a clerk for the American Express Co. They lived at 131 Laurel Street prior to the turn of the century.

Celia, Fr. Ted, Carl, Charles and Susan in 1911

Theodore was educated at the St. Mary's Seminary in Baltimore in the late 1890's where he suffered from typhoid. He finished his religious studies in Sandwich, Ontario and was ordained a Roman Catholic priest in Detroit in 1900. Consequently, he had no children.
Four Generations - Susan (Beissel) Lindemann, Marie (Lindemann) Miller, Clarence Miller and Jeanne in 1933

Celia Lindemann married Jeremiah Sheehan and had one child, Carl in 1905. Jerry Sheehan was born in Ireland and came to America in 1883. He ran a grocery store in Detroit and died in 1921.

Carl Sheehan married his wife Rose late in life and they never had children.

Marie Lindemann married Clarence F. Miller and had one child, Clarence Charles in 1906. He, in turn, married Marie Katherine Selinske in 1928 and they had daughter Jeanne in 1929.

Charles and Susan moved to Fowler, Michign when Theodore was assigned to the Most Holy Trinity church there in 1906. They returned to Detroit with him in 1917. Charles died in Detroit on December 8,1926. Susan lived with her daughter Marie until she died on June 12, 1935.
Fr. Ted, c. 1900

Fr. Ted, c. late 1930s

Father Ted

Theodore performed his first mass at St. Boniface in Detroit in 1900. He left shortly thereafter for Kalamazoo to become assistant pastor at St. Augustine's. He was only there for a short time before he was transferred to St. Joseph's in Detroit to be the Assistant Pastor. He transferred in 1906 to Fowler, Michigan to act as Pastor at Most Holy Trinity. His parents went with him and lived in the Rectory there. Ted was popular with the German-speaking congregation in Fowler as he spoke and wrote fluent German, thanks to his parents. Father Ted built a new church in Fowler that was completed in 1917, after he had been reassigned. He returned to celebrate the first Mass there with the Bishop. Some of the donated stained glass windows bear the names of the Miller's, Sheehan's and Lindemann's, as well as Father Ted.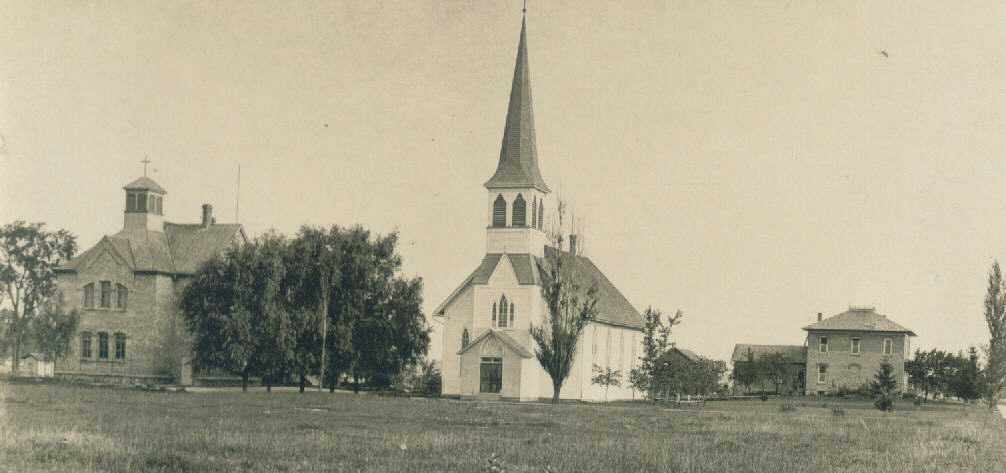 St. Joseph's School, Most Holy Trinity (Old Church) and Rectory in Fowler, Michigan
In 1917, Father Ted was transferred back to Detroit to become Pastor of St. Joseph's Catholic Church on Jay Street. He was made the last irremovable pastor in the Diocese where he remained until he died there in 1940. As the pastor of St. Joseph's Father Ted rated a biographical entry with photo in Volume III of "The City of Detroit 1701- 1922" (S.J. Clarke Pub. Co. 1922). Strangely, the article claims that his mother was from Clausen, Luxembourg, the error was repeated on her prayer cards after her death. Father Ted is buried in the family plot at Mt. Olivet.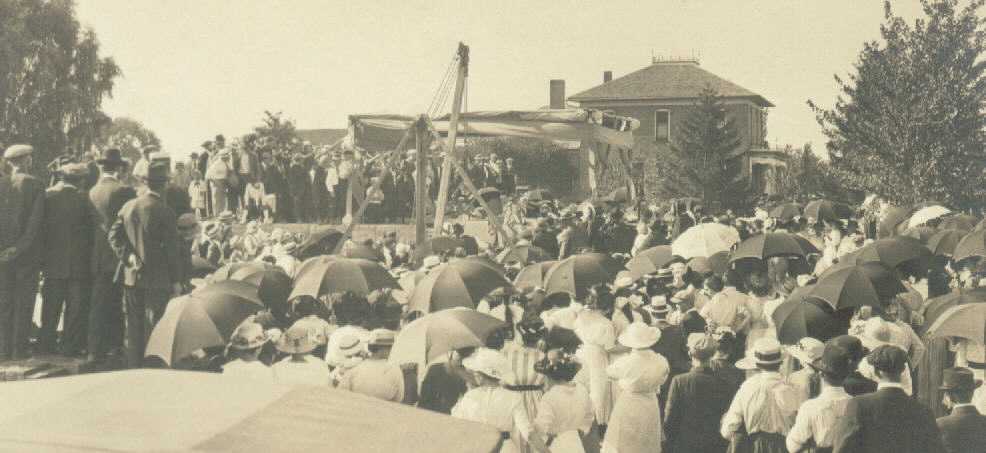 Cornerstone of new Most Holy Trinity Church being laid July 4, 1916
The Lindemann-Miller-Sheehan family plot at Mt. Olivet includes the original immigrants from Europe, their three children and their two grandchildren. Below is a photo of that plot with Charles and Susan Lindemann, Father Theodore Lindemann, Celia and Jeremiah Sheehan, Clarence F. Miller and Marie Miller and Clarence C. and Marie Miller and Carl Sheehan.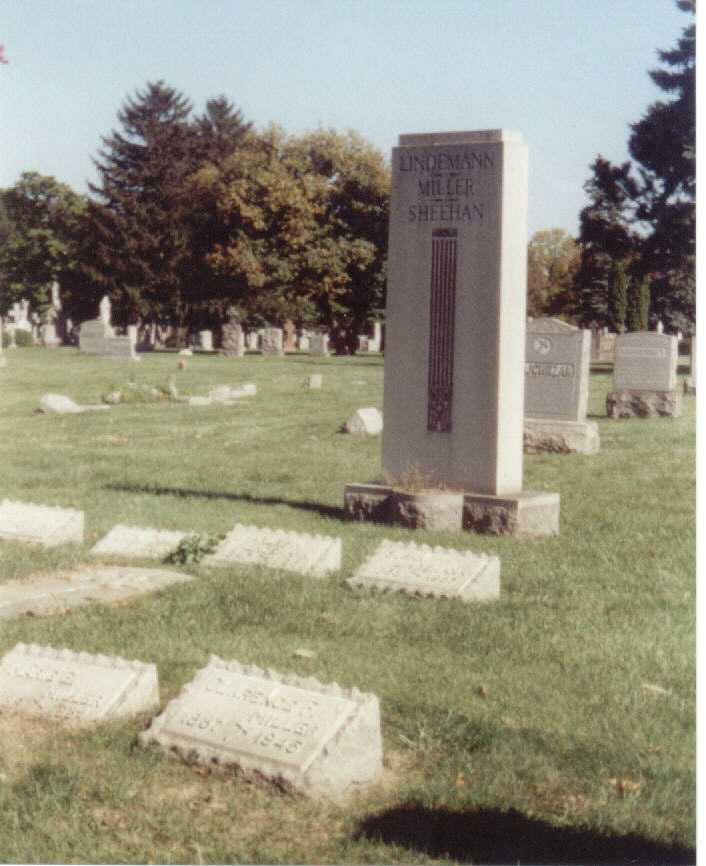 This page is maintained by Daniel A. Bellware
And was last updated November 15, 2010.
© Copyright 2007, 2008, 2009, 2010