Ile D'Orleans
---
Ile D'Orleans is located in the St. Lawrence River just east of Quebec City and connected to the north shore of the river by a bridge built in 1935. Prior to then, the islanders had to cross by boat in the summer or sleigh in the winter. The island is approximately 21 miles long and 5 miles wide. The towns of St. Pierre, St. Francois, St. Jean, St. Laurent, St. Petronille and St. Famille are nestled along its edges with farms taking up the interior.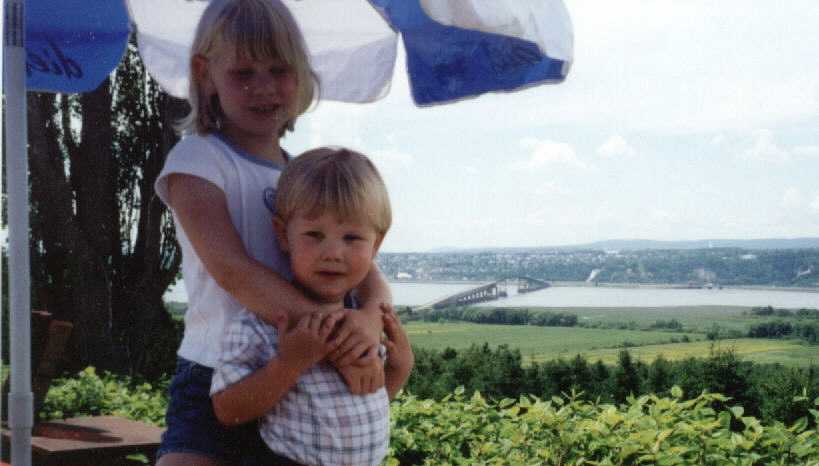 Katherine and Daniel on the island with the bridge in the background
The island has a long and interesting history. Jacques Cartier called it the Island of Bacchus when he first sited it in 1535 and renamed it Ile D'Orleans in 1536 to honor the Duke of Orleans. A small group of nuns and priests spent one night on the uninhabited island in 1639. The first French settlers on the island arrived shortly thereafter. Huron Indians took refuge from the Iroquois there in 1651. British soldiers occupied it and forced the French farmers to flee into the woods prior to their invasion of Quebec City in 1759. Today, the entire island is a historic district whose farms provide Quebec City with an abundant supply of agricultural goods.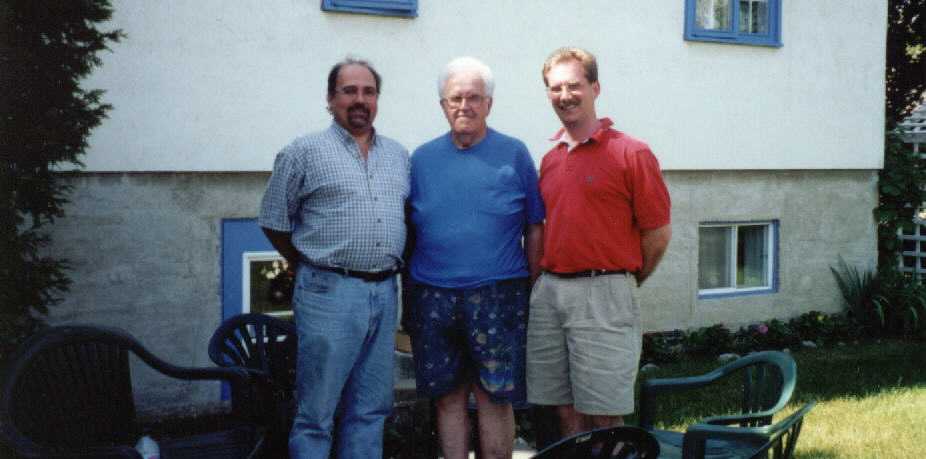 Claude, Georges-Henri and Dan in St. Pierre
There are numerous associations that represent many of the 300 families that have inhabited the island since the 1600's. Many have erected monuments to their original ancestors that came from France. The Blouin family is one of them. Their original ancestor, Emery "Mederic" Blouin arrived in Canada in 1664 and by June of 1667 had six arpents of frontage on the south shore of Ile D'Orleans at St. Jean. He married Marie Carreau and raised fourteen children on the island. Numerous descendants of Emery Blouin still live there. Georges-Henri Blouin, a family historian lives in St. Pierre, Another Georges-Henri Blouin, a boulanger (baker), lives in St. Famille. Richard Blouin runs a maple sugar shack in St. Jean, where he also lives and farms.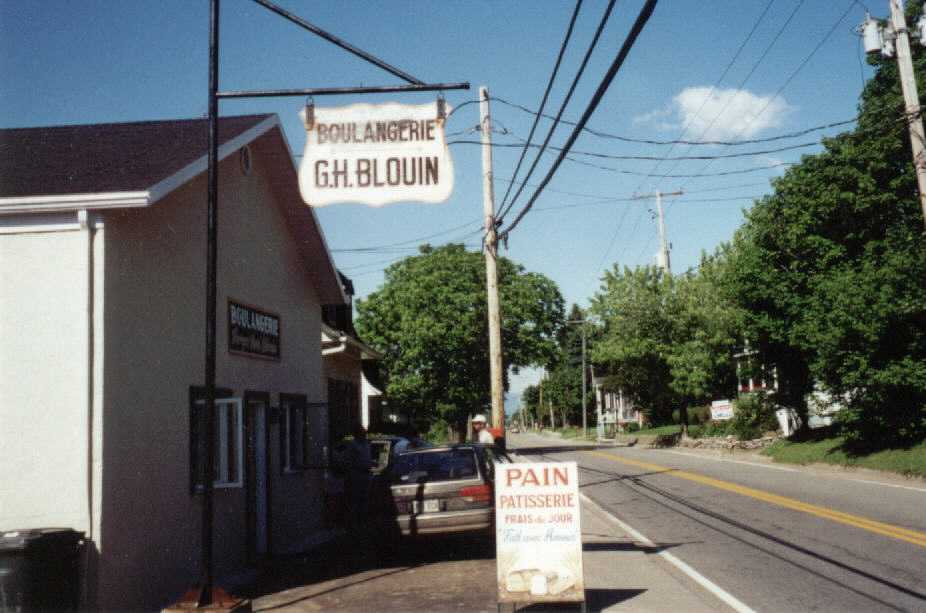 The sign outside Georges Henri's Boulangerie
A small contingent of Bellwares including Claude and Helene Bellware of Laval, Quebec and Dan, Leslie, Katherine, Daniel Bellware and Jeffery Hale of Columbus, Georgia visited the island on June 29, 2000. They stopped at a local eatery where the Georgia Bellwares got their first taste of poutine, a traditional Quebecquois dish consisting of fries with cheese and brown gravy. After lunch they dropped in on Georges Blouin in St. Pierre, the boulangerie and the sugar shack mentioned above. They also tracked down the monument to Emery Blouin, on the same land he farmed back in 1667.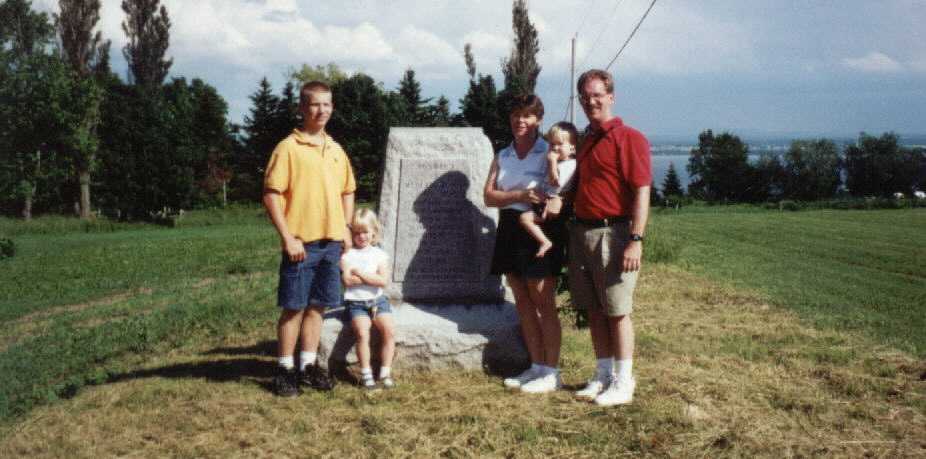 Jeffery Hale, Katherine, Leslie, Daniel and Dan Bellware at the Blouin Monument
The inscription on the monument reads
HONNEUR A MEDERIC BLOUIN 1641-1707 CE MONUMENT EST ERIGE POUR COMMEM ORER L ARRIVEE AU CANADA DU PREMIER BLOUIN ORIGINAIRE DE LUCON EN FRANCE IL S INSTALLA SUR CE LOT EN 1667 LES FAMILLES BLOUIN AU CANADA LE 2 SEPTEMBRE 1973
Which I believe translates to:
IN HONOR OF MEDERIC BLOUIN 1641-1707 THIS MONUMENT WAS ERECTED TO COMMEMORATE THE ARRIVAL IN CANADA OF THE FIRST BLOUIN ORIGINATING FROM LUCON FRANCE WHO SETTLED ON THIS PLOT IN 1667 BY THE BLOUIN FAMILIES OF CANADA ON SEPTEMBER 2, 1973
This page is maintained by Daniel A. Bellware and was last updated on July 29, 2000.
With thanks to Claude Bellware who acted as tour guide, interpreter and photographer.
Copyright 2000