</P>

The Allen Family
---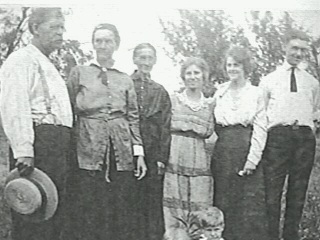 William Allen, Mary Allen, Amanda Dennis, two unidentified women and William Bellware

William Allen & Mary Johnson
William Allen was born in Wolfe Co., Kentucky near Campton on August 17, 1861. He was the twelfth of thirteen children of James Allen and Nancy Roberts. His siblings were Samuel, John, Granville, Stephen, Susan, Dulcenia, Mary, James, Jefferson, Eliza, Nancy and Martha. William's wife, Mary Margaret Johnson was born in Frenchburg, Kentucky on September 23, 1869. Her parents were Francis Johnson and Amanda Clay Phelps, both of Kentucky. Mary had one sister, who was also named Amanda. She married William T. Dennis in Frenchburg in 1888. Mary's grandfather, Austin Johnson, witnessed the first marriage in Menifee County in 1869. It was between Sarah Hackney and Joseph Phelps. Joseph was the brother of Amanda Clay Phelps.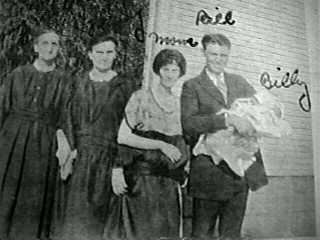 Five Generations (l. to r.)Amanda Clay Johnson, Mary Allen, Lillie Bellware, William Bellware & Billy Bellware

Menifee County, Kentucky
William A. Allen married Mary Margaret Johnson in Menifee Co. on August 24, 1882, just two months after the big flood that took the lives of six people near Frenchburg and one month before Mary's thirteenth birthday. They had only one child, Lillie, who was born September 7, 1884. William Allen worked as a farmer in Menifee Co. until he and Mary moved to Middletown, Ohio on June 30, 1906. Lillie married another Menifee Co. native, John Shirley Bellware, in their hometown, on April 12, 1899. John took up farming despite having received some college education in Ohio in the early 1890's. John and Lillie had two of their five children in Menifee Co. before leaving Kentucky for Middletown, Ohio around 1903.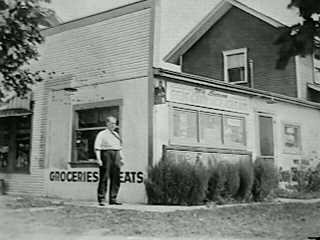 William Allen in front of his store in Middletown

Middletown and Dayton, Ohio


William and John Shirley both ran grocery stores in Middletown, Butler Co., Ohio. William stayed there until he retired. Lillie and John were divorced in Butler Co. in February 1914 and John returned to farming. Lillie retained custody of their youngest child, Allen Bellware, while John was granted custody of the oldest four boys; William, Conard, Vernon and John, Jr. to work the family farm. Lillie was living with her father during their three-year separation, prior to the divorce. William retired from the grocery business in 1923, he and Mary moved to Dayton, Ohio. He only lived another four years before dying of heart disease on December 14, 1927. He is buried with no headstone in Bear Creek Cemetery in Dayton. Lillie also moved to Dayton and married Irvin Clark. Irvin died in Dayton in February, 1936, after a short illness and was followed by Lillie in November. Mary lived in Lillie's house on Gummer Street in Dayton until her ill health required that she move to the Rayburn Rest Home in Eaton, Ohio. Suffering from breast cancer, she passed away on April 13, 1941. She is buried next to Lillie and Irvin in Bear Creek Cemetery.

River Jim


William Allen's father, James Allen, was known as "River Jim". While it has been reported that James was the son of Samuel Allen and Susan Sizemore, there is some doubt that he actually was. He was born around 1824, but Samuel and Susan were not married until 1827. Furthermore, the 1830 Federal census of Perry Co. Kentucky shows that Samuel Allen had no male children living with him at that time.

James may be the product of a previously unknown marriage or may be illegitimate. Possibly, James is unrelated and Samuel took him into his home and raised him as his own son sometime after 1830. The only reference to the father of James Allen is found in the book "Behold He Cometh in the Clouds" by George Washington Noble who had known the Allen family before the Civil War.

James was a Confederate soldier with the Kentucky Infantry's 10th Regiment, who along with a number of his brothers and
sons, including Granville, Stephen and John participated in raids on Union sympathizing neighbors in their corner of eastern Kentucky. A neighbor, Richard Sanford Shackleford, was killed on his farm in February of 1864 during one of these raids. Later that year, according to the story, River Jim was taking some corn to a nearby mill for grinding when he was recognized by some of Shackleford's kin as one of the raiders. Jim was captured and killed in revenge.

When his wife, Nancy, went to retrieve his body, it was gone. It is thought to have been weighted down rocks and thrown in the river or buried in the nearby woods. Either way, his body was never recovered. Three of Jim's brothers, John, Irwin and Emery met a similar fate when they were ambushed by Union soldiers at the mouth of Drowning Creek in Estill Co., Kentucky in 1865 while walking home at the close of the war.

Nancy Roberts Allen


William's mother Nancy was born on January 25, 1825 in Perry Co., Kentucky. She was the daughter of John Roberts, who according to legend, was born in Virginia on the same night as the famous Revolutionary War battle at Cowpens, South Carolina, January 19, 1781. Her mother was Susan Campbell, whose brother, John fought in the War of 1812. Nancy married James Allen in Perry Co. around 1843, although no record of their marriage exists.

The family farmed in Perry, Owsley and Wolfe Co.'s before James died in the Civil War. Nancy kept the family farm going in Wolfe Co. for a number of years after the death of her husband in 1864. She lived with various children starting before 1880, and continuing until her death in July 1911. She had gone blind suddenly while walking home one day. She took to her bed, smoked her pipe and made up songs that she sang to her grandchildren.

There is a story about a string of black beads that Nancy's son, Stephen, had given her. He had gotten the beads from some gypsies he met on the river in exchange for food. She never took the necklace off and was eventually buried with it. The value of the necklace increased through the years with each telling of the story until finally, someone decided to retrieve them from her grave. According to the story, the attempt was unsuccessful, thanks to a nest of copperhead snakes that required the graverobbers to be rescued by a passing farmer and his tractor. The deed was never attempted again.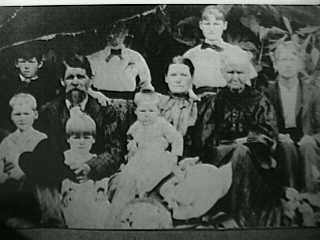 Stephan Allen, his wife Lydia their children and Nancy Allen

Stephen Allen
William's brother, Stephen, later buried the hatchet with some of Shackleford's kin. Particularly a son-in-law of Shackleford, named George Washington Miller. Two of Stephen's children married children of G.W. Miller. Stephen Allen and George Miller also agreed to be buried near each other in a cemetery in Lincoln Co., Kentucky where Stephen died in 1930. Stephen was quite young during the Civil War; he was only fourteen when he joined up in 1863. He started as a waterboy for his unit. One story is told is how, after becoming separated from his unit, cold and hungry, he broke into the house of a mother feeding her children. He stole a skillet of cornbread and burned his hand in the act. He regretted the theft when he realized that he might have stolen that family's only food. The scar from that burn, which he bore for the rest of his life, was a constant reminder of what he had done. Stephen Allen put his rebel days behind him after the war and is said to have flown an American flag outside his home regularly. He later became a Wolfe Co. judge.

Dulcenia Allen
William's sister, Dulcenia lived in Wolfe Co. as well. She first married William Miller and then Wilson "Turk" Combs. She had a somewhat violent married life. It has been reported that William Miller was killed by a rock thrown during an Election Day disturbance. Turk Combs was accused of throwing the rock, but he fled before being arrested. Miller died about a month after the incident. Turk later married Dulcenia, Miller's widow. She is said to have shot Turk herself when she found him with another woman. Apparently, he survived as they died within three days of each in August 1937. Dulcenia and Turk died at ages 85 and 93, respectively.

Other Siblings of William Allen
Some of William's other siblings that stayed in Wolfe Co. include Granville, who farmed there until he died in 1897, and his sister, Mary, who married Isaac Combs. Some of William's siblings moved to Menifee Co. including sisters, Susan, who married William Combs and Martha, who married Joey Lee Nickell. His brother, Jefferson Allen, married Mary Slusher and lived in Menifee Co. at the turn of the century. He died there in 1931. His brother John also lived in Menifee Co. for a while. William's brother, Samuel lived in Lawrence Co. and his brother, James, lived in Maggofin Co. The twins, Eliza and Nancy married Colson Duff and Lawrence Hammer, respectively. Both of them went on to raise large families.

Descendants of William Allen
While William had only one daughter, he has many descendants. He had five grandchildren, eight great-grandchildren and twenty-five great great grandchildren. One of those great great grandchildren is the compiler of this information, whose grandfather was William Clay Bellware, first grandson and namesake of William Allen.

Acknowledgments
These photos and stories were gathered with the help of numerous people, including, June Sachs, a granddaughter of Stephen Allen; Carole Bays, a great-great-granddaughter of Granville Allen and Marge and Eunice Bellware, granddaughters-in-law of William Allen. Other researchers instrumental in accumulating this information were Imogene Amburgey, great granddaughter of Jefferson Allen, Mike Sweeney, a researcher of the Allen family and Barbara Ingram, an authority on Menifee Co. genealogy.
This page is maintained by Daniel A. Bellware and was last updated on December 9, 2000.
© Copyright 2000